Everyone has probably played Mario Kart. It is challenging and people can become very fanatical. Nintendo now comes with a very big surprise. Nintendo announced in early February that they are coming with Mario Kart for your phone! Do you want to know more about this? Read on!
Creativity and good humor will be at the there, as every year, for the carnival. On this date, everyone falls back into childhood and takes on the game of costumes, eccentric makeups and festivities. To be in the mood during the parade and let his imagination express itself, you need to find a costume idea. Read on to discover our best costume ideas for carnival and all our tips for finding the perfect props.
On the 8th of February the time has come. The Fashion Week begins in New York.
What can you expect? What will be the latest trends?
Read on to learn the most important.
Valentine's Day is approaching, and like every year the time comes for lovers to start thinking about the gift to do to their own half. Of all the holidays, this is undoubtedly the most stressful one: you have to think about something that is really personal (the monochromatic sweater you gave at Christmas is not a good idea in this case), but at the same time you do not want to spend too much. And you, have you already decided what to give? Take a look at what we thought, you could find inspiration!
The best gifts for him
It is not difficult to give gifts to men: is it an eternal big baby? Give the latest game for PlayStation, it will go crazy! Is it stressed by work? Definitely will appreciate a weekend for 2 at the SPA. If he is one of those who likes to write what he thinks or have his own writting block you can probably offer him a personnalised notebook HERE.  If instead you are running out of money, you could prepare a romantic dinner by candlelight!
The best gifts for her
For women it's another story. As much as you can try, you'll never even get close to understanding them. They tell you they have nothing, but they look really angry. They tell you they do not want anything, but they really want everything. Or rather, they do not even know what they want. Do not panic, we decided to draw up a small list of gifts with which you can not go wrong.
First of all, JEWELRY. Jewels are women's best friends and there's no better way to make them happy. Necklaces, bracelets, earrings ... You are simply spoiled for choice. If you can not afford even a hole for the earring, no problem. You can make a gift at no cost that never goes out of fashion: a love letter (preferably accompanied by a bouquet of flowers). If she is a girl who is part of the selfie army, you should give her a beautiful colored polaroid, which will surely always carry with her. If you have not found any inspiration, then simply go to your favorite center store and buy a gift card and give it a shopping spree!
The perfect gift
All the gift ideas we have proposed are fantastic, but there's more. Imagine a gift that suits everyone, men or women. An absolutely personal gift. That everyone certainly would use (not like that sweater that ended up in a closet ...), and above all everyone can afford! It seems impossible? But no: it's a personalized GoCustomized cover! Think about it: all of us today have a smartphone, and we all want to protect it to the fullest. In addition, you have the possibility to create it yourself by inserting photos, images, drawings, writings and quotes! If you want to know more, take a look at our website!

Let us know what you gave your other half in the comments!
One of the biggest sporting events in the world was last night: THE SUPER BOWL between two teams, namely New England Patriots and the Philadelphia Eagles. Since the contest attracts a lot of viewers, it is also being unpacked with the commercials. We at GoCustomized have put the top 10 commercials together and what are many famous people in it!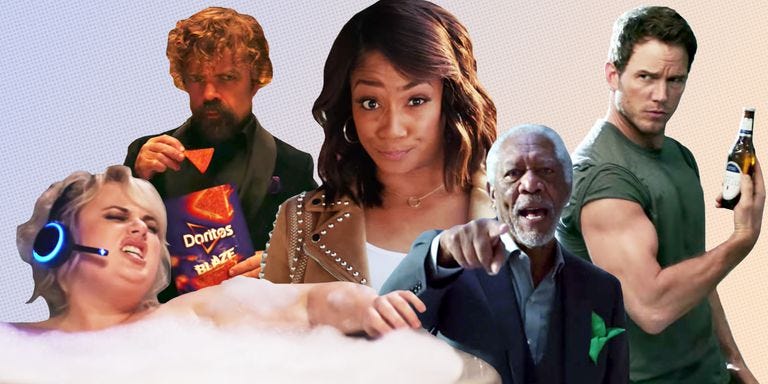 Bron: Elle.com
It is that time of the year for the football lovers to go crazy. The Super Bowl is here, and you want to show your support to your favorite team in the best possible way. Gather your best friends, find a cozy apartment and turn on the TV, the rest is up to us! We've put together a selection of 10 Super Bowl must-haves that will make you the ultimate football supporter.
The Samsung Galaxy S9 release is officially announced at the Mobile World Congress (MWC). There are already many rumors about the technology around display, camera and fingerprint sensor. It is already clear that, as usual, there will be a slightly larger version, the Samsung Galaxy S9 Plus.
Read on to learn all about the new Samsung Galaxy S9!
XIAOMI REDMI 5 - FULL SCREEN SMARTPHONE AT A SMALL PRICE
This entry was posted on January 23, 2018 by Brad.
Smartphones, have become our everyday companions. None of us leave the house without them. For many people, keeping up with the smartphone trend is very important, but that has its price. The average smartphone now costs over £400, so for most people, smartphones are made to last.                                                                                                                                                  In December, Xiaomi announced the Redmi 5, promising that it would be a modern full screen mobile phone for a small price. Read to find out if the Xiaomi Redmi 5 might be the right phone for you!
Source: mi.com
NEW YEAR'S RESOLUTIONS
This entry was published on January 22, 2018 by Brad.
As we approach the end of the year, it's time to look back and reflect on all of the positives that were celebrated throughout it.  We can use the past year as a learning experience, and banish all of the negatives from our lives; this includes our bad habits. Instead we can set new goals, in which we hope to achieve in the new year. Do you already have your New Year's resolutions? Take a look at ours!
Valentin's day or the lover's day , has become very commercial. At GoCustomized we agree. Therefore, this year we advise you to make a gift to that person you love like crazy, that this gift is made by you. That is, show him how much you want to personalize it for him. Something that remind your style and which is related to your better half, since that is what he likes the most, to have a piece of you! Read what comes next to see the guide of ideal things to give on Valentine's Day. In addition, most of it can be done by recycling materials or not very expensive items. Keep reading to discover how to surprise your partner this Valentine!
February the 14th. A very marked and romantic date for some lovers. For others, a day as good as any other to show their love. Even so, we all agree that showing our love to that special person in our lives is always a good idea. Put the best of you, and show him how much you love him: surprise him with one of our idea as a gift that does not leave him indifferent.
1.  Breakfast with your diamond
We all like to start the day in a simple and beautiful way, so why not wake up your special someone with a good breakfast? When I tell you about the diamonds, well, you know what is the answer, right? She or he is your diamond.
2. Share your hobbies

Does your partner have a strange hobby or a music that you can not stand? Well, if for one day you practice your favorite sport together or go to a concert of your favorite group?
3. The classic romantic letter
It will sound very typical, but for that very reason, it is not a resource that we use often. So I may surprise you and like it.
4. Card Game
No doubt this great idea will like it. You just have to write a reason why your partner likes you in each of the cards in the deck.
5. Relive an experience
Do you remember that plan that you have so often remembered with tenderness? Why not repeat it and relive old memories together?
6. Dedicate him time
Time is money, why not share your fortune then? Enjoy a day together!
7.The second classic flowers + chocolate
Despite being a classic, we all like to be given candies and flowers! That's right, turn it into something spice by adding a note or photo.
8. Love's cases
Nowadays, we always have our mobile within sight, so by giving it a personalized case for your iPhone you can print a nice souvenir or photo in the case of your mobile. The double will be happy, since you will have your mobile protected and at the same time a nice detail.
9. Live the Music!
It is proven that we associate music with good memories and happiness, so why not give it a good dose of it?
10. Empathy for a day
Your partner's style is Heavy rock or like the Hipster type? Share your style for a day and make him feel you that you support him. We all like to be accepted and even more so by our partner.
Let us know in the comments what you think of our Guide to Valentine's gifts!
Receive 5% discount on your first order!
Sign up to our newsletter!