One of the biggest sporting events in the world was last night: THE SUPER BOWL between two teams, namely New England Patriots and the Philadelphia Eagles. Since the contest attracts a lot of viewers, it is also being unpacked with the commercials. We at GoCustomized have put the top 10 commercials together and what are many famous people in it!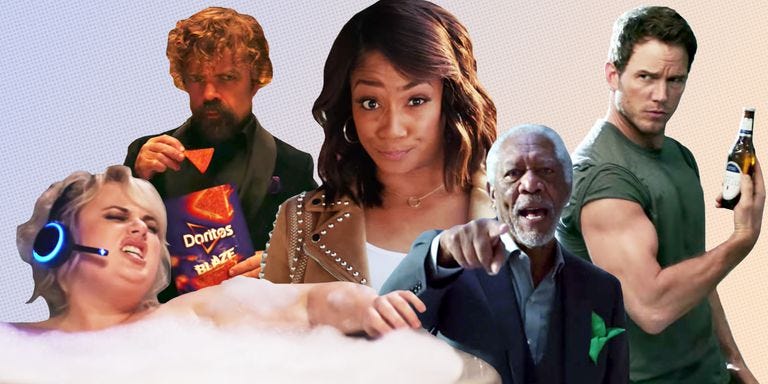 Bron: Elle.com
10: '' The Wonder of Us '': Coca-Cola
Coca-cola has come up with an advertisement that mainly shows that coca-cola is for everyone, even if everyone is unique. As Coca-Cola can put it so beautifully: '' There is a coke for you and for me '.
9: ''Alexa loses her voice'': Amazon
Amazon has also done a great job with their commercial! The well-known speaking speaker: Alexa loses her voice and famous people pick it up for her. Anthony Hopkins, Cardi B, Rebel Wilson and Gordon Ramsay, among others, can be found in the Amazon advertising.
8: ''Who wouldn't?'': Groupon
Groupon has come up with a commercial that mainly shows how Groupon makes sure that you save money when you use them. They used Tiffany Haddish for this advertisement.
7: ''The only man whose bleep don't stink'': Febreze
Febreze wants to make sure that your bathroom would not stink with all those people on the floor during the Super Bowl. They showed this clearly in the commercial.
6: ''Groove'': Diet Coke Twisted Mango
The diet coke was back at the Super Bowl after 21 years! For this she used the Australian actress Hayley Magnus.
5: The Bud Knight'': Bud Light
Bud Light takes you to a kind of Game of Thrones scene, where a fight is going on. The Bud knight comes out and gets some beers and defeats the opponent.
4: ''Jeep Jurassic''
Jeep takes you to the time of the dinosaurs. A chase is going on between a Tirex and a Jeep. Will the jeep save it?
3: ''Answering the call'': Verizon
Verizon came up with an emotional commercial where they let telephone conversations between victims and the rescuer in need. A very deserved place in the top 10 for Verizon!
2: ''It's a Tide Ad'' met David Harbour
Tide has used Stranger Things actor David Harbor for their advertising. The advertising takes you to all the fun moments in life and shows that you always need Tide.
1: ''Doritos Blaze vs Mtn Dew Ice''
Again a Game of Thrones related commercial. In this advertisement is a fight between fire and ice but in a funny way between Morgan Freeman and Peter Dinklage!
What did you think were the best commercials of this Super Bowl 2018? Let us know in the comments!